Truck Accessories & Hitches
We Have All The Truck Accessories You Need!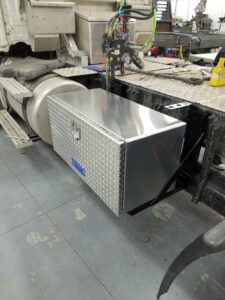 Do you need a new truck hitch or custom-fit toolbox? Would you like to take your standard truck and turn it into a real working machine?
Ledom's Performance Equipment & Diesel Repairs sells all the accessories and trailers you'd ever need so you get the most out of your truck, whether you use it for work or leisure activities.
And Ledom's Equipment installs every truck accessory we sell. With great quality and highly useful truck accessories and professional, guaranteed installation, you can be back on the job in no time!
DO YOU NEED CUSTOMIZED SERVICES?
You can count on us to provide custom flatbeds and design work so your truck looks and functions perfectly for your individual needs. We're efficient and our rates are reasonable.
Don't overlook your RV hitch
An RV hitch may be a small piece of equipment, but if it's not made of quality engineered metal, you'll be in for a bumpy ride.
You can count on Ledom's Performance Equipment & Diesel Repairs to carry only the best quality hitches in a variety of configurations to suit your individual needs.
With our products, you're sure to have a very comfortable and safe ride.