At Ledom's we care enough to use only the best brands and suppliers.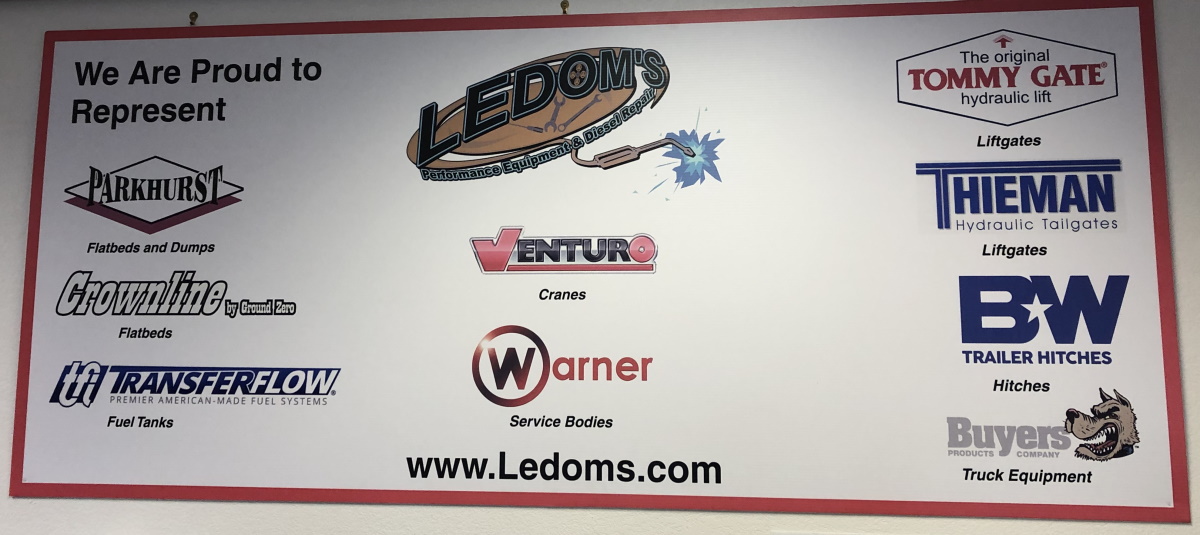 Our Brands
If you want a tough and well-engineered flatbed or dump body, then Parkhust is the one for your truck! Overbuilt and proud of it. Sedalia, MO resident William Parkhurst founded Parkhurst Manufacturing Company in 1946 and has been manufacturing quality flatbeds, dump beds and trailers ever since.
Crownline Products
Crownline flatbeds by Ground Zero is "Built To Last" as the company motto goes. And, at Ledom's Equipment, we believe them! Founded in 1996 by Richard Crow in Perry, OK, Crownline Products offers quality flatbeds, hay beds and cattle feeders.
Transfer Flow, the premier American-made aftermarket fuel systems company in Chico, CA can give your truck the ability to go the distance without wasting time with excessive refueling stops. Transfer Flow has many options for an auxiliary fuel tank and Ledom's can install them.

Venturo – rugged, reliable and real builds top-line cranes in Cincinatti, OH. From the HT45KX-VLC with a crane rating of 45,600 ft-lbs to the Transit VC1000 with a crane rating of 6,000 ft-lbs and will sit securely in the back of your Ford Transit van, Venturo has youo covered.
Warner in Elwood Indiana has been building quality service bodies for over half a century, and Ledom's is proud to be associated with this great manufacturer. A Warner-built service body will give years of trouble-free service and looks great doing so.
Tommy Gate, the original hydraulic lift company is a division of Woodbine manufacturing company in Woodbine, IA. Tommy Gate builds hydraulic lifts for pickup trucks, box trucks, platforms, dump beds and vans – just about any service vehicle you can think of. A Tommy Gate hydraulic lift comes with decades of engineering and is American manufacturing at its best.
Thieman Tailgates in Celina, OH builds a line of hydraulic lifts for just about any vehicle you can think of. They also customize their product to meet specific needs with lifting capabilities of 1,000 lbs to 6,600 lbs.
American-made and Built to last, B&W Trailer Hitches can outfit your rig with a gooseneck hitch, a fifth wheel hitch or a bumper hitch – whatever you need for your hauling of choice.
Buyers Products Company manufacturers just about any piece of truck equipment you can imagine. Snow ploughs, Saltdog spreaders, tool boxes, hydraulics, tarp systems, cargo control and much more. Talk to a Ledom's representative to learn if Buyers Products Company can help you work more efficiently.